TDG expands into Home/Office Automation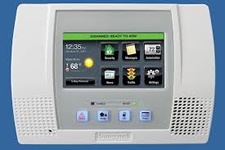 Our IT department has recently expanded into the whole area of home/office automation and security. It's a pretty exciting field which changes much of the way in which our homes and offices work. What we can provide can virtually make the home or office operate on its own, which has great every-day benefits with additional benefits when you are away from your home or office for vacation or business.
The equipment that we are using at this time is exclusively Honeywell. They are a world leader in the manufacturer of control systems. Their systems are state-of-the-art, reliable and cost-effective.
We have set up two model installations for people to see. One is at the home of the TDG owners Chris and John. This home showcases the best of a residential install. It includes a locking system which is integrated with the security and various other parts of the automated house. Our office has also been setup with security, automation, cameras and a full-blown controlled access system. Everything that is setup is viewable and controllable from your smart phone, tablet or desktop.
TDG offers a full security monitoring system. Much of the monitoring with our systems, however, is done with your smart-phone. Any alarm or other problem is immediately emailed to your smart device, so that you can be prepared for the phone call which will ask you whether or not you want the security officer to visit your home or office. For example, recently a folding chair which was leaning against a wall in the basement of our office slid down onto the floor when the upstairs tenant slammed a side door to the building. The alarm system was triggered. We were able to look quickly at the outdoor and indoor cameras, tell the security company not to send guards and reset the system…all from our smart phone.
There is a lot of advertising out there about home automation and some of it is very misleading. In the end it's best to work with a company that will spend the time needed to make sure that all of your needs are taken care of, with the appropriate equipment and programming. We think that the Dunham Group (TDG) is that company.
If you are interested in home or office automation, please contact Craig in our offices at 905.312.8444 x 118 or click here to email him.