Myth 1: There isn't anything worth stealing on my computer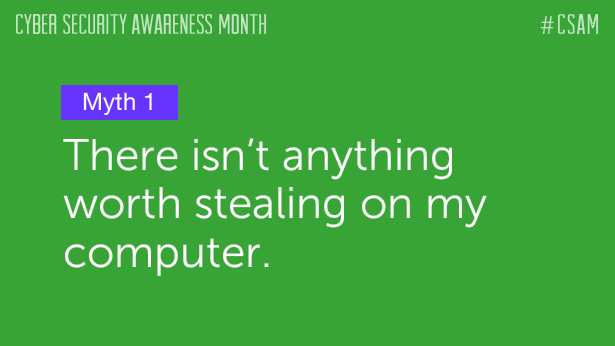 Most people have heard about hackers getting access to sensitive data. Home Depot and Target are perhaps the most recent big companies to admit that their data systems were hacked and user data was stolen. It's a dangerous myth however to believe that your own personal computer isn't worth the trouble for a hacker or cyber-criminal.
If you use a computer, you likely have passwords, important email addresses, and perhaps even financial information like credit card and account numbers stored on it. Additionally, documents saved on your computer often contain metadata that can provide even more information for hackers to use. Without the proper protection, a hacker would have the opportunity to steal your identity or erase irreplaceable information if they gained access to any of this information.
October is Cyber Security Awareness Month, and we'll be posting information on our blog to help inform you and protect your personal and business information. We thank SingleHop for the inspiration for this post.