Dunham adds ZOLL AED to office
Having an AED in your office or workplace can increases the chance of survival from a heart attack from 10% to 80%.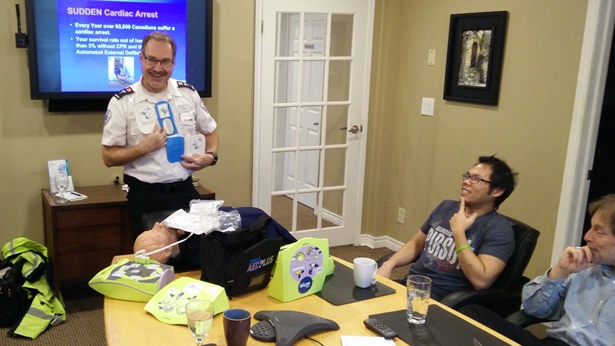 The Dunham Group has added a new piece of technology – a ZOLL Automated External Defibrillator (AED) provided by our clients Russ and Lori King who operate AED4Life, which is the Canadian distributer not only for ZOLL devices but for many other brands. Having a device like this in your office or place of business/meeting increases the chance of survival from a heart attack from 10% to 80%. It's well worth the investment.
In our training program, we learned that not everyone who is suffering from a heart attack needs the shock that is provided by an AED. That's the beauty of the machine. You place the pads on the patient and the machine then tells you what to do. Half of the time the patient needs CPR only. The machine will guide you through it. If you are not pushing hard enough on the chest, it will tell you so. When you are doing the compressions properly, it will say "good compressions". There is even a metronome which will lead you to the right speed of giving the compressions on the chest. If the person needs to be shocked, the ZOLL will tell you so. It will also tell you to stand back while it does it. The commands and instructions are very clear and easy to hear.
AED4Life also offers a wide variety of first aid courses for the workplace and other situations. With the various stresses in the workplace and in our home lives, accompanied by the fact that so much of the food consumed in society today is to the detriment of good heart health, it would seem that an automated defibrillator in the home, office and other places of gathering is going to be an 'essential device'.