Myth 2: Firewalls and antivirus software are sufficient for protecting my computer's assets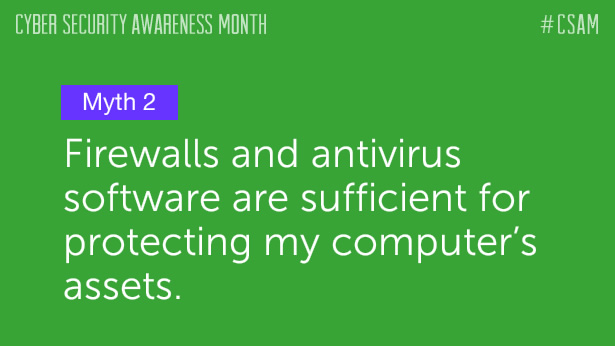 It's true that firewalls and antivirus software are very good protection, but only if they are kept up-to-date and strong passwords are used whenever a password is required. The same is true for your operating system.
The good news is that most operating systems and software applications allow automatic or scheduled updates to help ensure you have the latest updates.
Even when kept up-to-date, however, firewalls and antivirus software are only able to defend against known threats so healthy suspicion when checking email, and prudent internet practices can never be totally replaced by software.
For business owners, the help of an IT support professional can greatly increase your peace of mind and reduce your frustration.
October is Cyber Security Awareness Month, and we'll be posting information on our blog to help inform you and protect your personal and business information. We thank SingleHop for the inspiration for this post.