How many websites are there?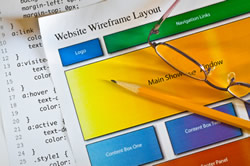 It's estimated that the web contains some 4.75 billion indexed pages as of this date. As you can imagine a very small percentage of those websites actually work or produce anything. At TDG we have been working for years, looking for the solution or formula that make a website actually produce what it's owner wants.
We realize that some websites are for information, some for commerce; some secure websites organize the entire life of a company or organization – and much more. So it seems that the first thing that we need to know about any given site is – what does its owner want from it. That is the starting point. We call that the Discovery Process, which is essential for any good web development. All too many people say: "I need a website", but have absolutely no strategy for its successful execution.
The rest of it is all about being Smart.
Smart Design is something that cannot be overlooked. Sure you can build a Word Press site and borrow a design from someone else. The bottom line is that it is a dog-eat-dog market. If someone is looking for your product, service or information, you had better be sure that your site uses only the best in Design strategy and technology. If not, someone will outdo you and guess where the viewer will go!
Smart Code is the second area of concern. It's easy to borrow code from other places (hopefully you will not get caught) or to use stock burdensome code that bogs your site down, frustrating viewers and search engines. Using professional programmers is obviously the right thing. Your site will be designed to work with all the various browsers out there as well as the various devices that will view it. Did you know that while shopping for a new vehicle, we discovered that one major manufacturer of cars(one of the big three) had a fabulous website that did not work on the iPad! How smart is that? We were on the road looking for an appropriate vehicle and this site would not give us the information that we needed.
Smart Indexing is the third area. It's very funny to look at some of the internet and email advertising about search engine optimization. Do you remember the Wild West movies when someone came along with their covered wagon to sell snake oil that cured all maladies? Some scams never die. We have had people come to us who have employed one or another of these SEO companies only to discover that the only company to make money out of the deal was the SEO Company.
Your site needs to be built properly from the beginning. Our developers spend much time learning about the ever-changing landscape of site indexing. We are continually adapting our styles to make certain that you have the very best possibility of success as a result of your web presence. We are also there to take care of you when search engine policies or algorithms change to make certain that you stay in a position of advantage. Maybe there are 4.75 billion pages and climbing – but yours needs to be the best!
There is much more that we could say but this gives you an idea as to why you need professional web developers and why you need the right professionals. For more information about our web division (around since 1995), please contact John Janisse, Director of Operations here at TDG. You can call him at 905.312.8444 x102 or click here to email him.