Meet Jeremy McMaster, head of IT Services
Jeremy manages everything that has to do with computer hardware, servers, cybersecurity and more!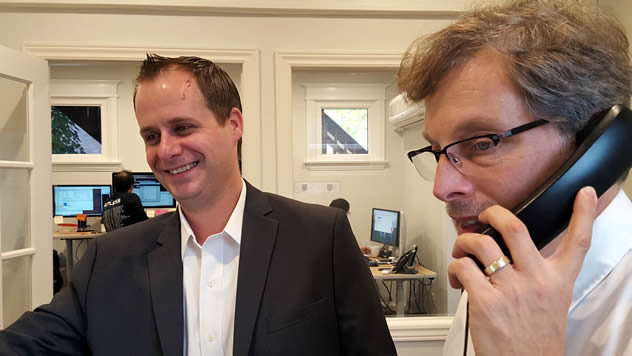 I was in Best Buy one day a few years ago when a client came running up to me in the store and said: "Did I ever tell you that I 'love' Jeremy? Please be sure he keeps working on our account!" It's similar to comments that I hear quite often from our IT clients. So who is Jeremy?
Well, I first met him when he was a 16 year old 'kid' working for a large internet supplier in Hamilton called Interlynx. I actually thought he was a bit annoying because he was so smart about Internet and IT issues and I figured a 16 year old just shouldn't know that much.
Jeremy heads up our IT services. In his role, he manages everything at our end that has to do with servers (internal and external). Jeremy manages security for Dunham to ensure that our files internal and external are safe from insidious hackers. Speaking of security, one thing that Jeremy had not considered was the security of our phone system. (He has that in hand now) We received a call from Cogeco (our phone provider) a few years ago to tell us that we had accumulated thousands of dollars of phone calls to Africa. It turned out that the installer of our system had left a generic password on the system and they figured it out. They were able to use our system and lines to make hundreds of calls to Africa. It was lesson to be learned… nothing with an Ethernet or wireless connection is safe unless you manage the security.
Jeremy can and does setup enterprise level servers and networks as well as servers and networks for small business and everything in between. He can consult with you on any of your IT needs, which will enable you to do what you need to do – and that is build your business. Wireless, hard-wired, servers, desktops, mobile devices, software for all of the above, security audits and more are all in the area of his expertise.
If you really want to get rid of IT headaches then Jeremy is the person. I can pretty much guarantee that you'll love Jeremy too!