3 ways to get on the first page of Google

What do you do when you want to find something online? If you are like most people in the world, you will use Google. In fact, according to a recent study conducted by SearchEngineLand, an average of 63,000 searches occur every second on any given day. That amounts to a fascinating 2 trillion searches a year, which is many times more than the population of our beautiful planet.
Since its humble beginnings in Menlo Park, California in 1998, Google has established itself as a product the world simply cannot live without. Over these years Google has adapted to the ever-changing world of technology with a range of algorithms such as the Panda, Penguin, Hummingbird, and Pigeon (don't you just love those names?) that were later adapted and integrated with their core algorithm. According to Backlink.io, the Google algorithm takes into consideration a whopping 200 factors before delivering you the best results.
Of course, we are talking about Google because of the sheer dominant force of this search engine. According to StatCounter, Google is dominating the world of online search with an astonishing 90.46% market share worldwide (with some countries like India reaching 94.39%). However, the tips that we are about to explore can be beneficial for any search engine since most search engines tend to follow similar patterns of evaluation.
Why The First Page Of Google?
So by now, you are surely convinced that Google is all great and powerful. You might however be wondering, why should you care if you are on the first page of Google? Well, there are actually a number of reasons why this would be extremely beneficial for your business.
Let's begin with why specifically the first page. According to a study conducted by Hubspot, 75% of users never scroll past the first page of search results. Considering that there is a good chance that 90% of your users are going to use Google to either find your business or verify your credibility through its search engine presence, you definitely don't want to fall into the 25% range.
Additionally, the aforementioned 25% is talking about the percentage of users that visit the second page. This number drops drastically when you begin to scroll down the page, however. Take a look just how fast your conversions plummet when you rank lower on the "food chain".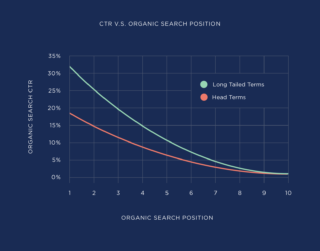 As you can see in the chart above, the click-through-rate for your website drops drastically when you go to the 9th or 10th results. So even those 25% that do visit the second page of Google and happen to see your website because it is at the top of page two, industry statistics show that they are very unlikely to actually click and visit your website.
While implementing Google Ads may be a great way for you to get on the first page when you just start out, but by harnessing the power of SEO (Search Engine Optimization) you are able to create an engine of growth for your business that may last you for many years to come. Of course like anything, the best way is to learn from the experts who have been there and done this.
While Google has those hundreds of metrics built into their algorithm, in our 20+ years of experience in helping companies get on the first page, it all boils down to one concept: RELEVANCE. Google will rank your site high than another if Google deems it to be more relevant.
How can you make your site more relevant? We'd like to share the 3 most effective ways that we've found to get on that first page of Google. Let's dive in, shall we?
1. Determine Your Keywords
We put this in the first and most important position because this is actually THE key component to anyone seeing your website on any search engine. As a matter of fact, even if you do choose to implement Google Ads to give yourself a boost while search engines crawl and index your website, you will probably not get too far without first developing a solid keyword strategy.
The best way to determine your website's keywords is to first understand what your audience might be searching for when they look for a product or service that you provide. No one knows your company like you, so even if you choose to harvest the benefits of working with an experienced search engine marketing team, the best thing you can do is start here. Of course, you are not alone on this journey, so there are many tools to help you succeed.
Once you understand which keywords will most likely help you succeed its time to implement these words into your website. This means ensuring that your keywords are present in your meta title, meta description, URLs, and in the top hierarchy of your website as well as your website's context.
Another trick is using your keywords in the ALT tags of your images so that you are more likely to rank higher on Google Image search and get more traffic from there. In 2018 Google Image search accounted for 22.6% of all internet searches and this number may grow higher in the future as our favorite phone makers continue improving their retina displays.
It is also important to note that you will be a lot more effective if you don't compete with yourself across different pages. Each page should have its own set of words that you are using to target the search engines or ads that you are running. There exceptions of course, such as your company name which should be present on every page.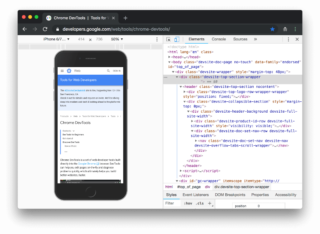 2. Optimize For Mobile
Mobile devices are the most used search tool today. In fact, even during the age of the pandemic when you think most people would be using their computers since they are not "mobile", mobile usage is still spiking. Google among other search engines have noticed this trend and decided to switch to mobile-first indexing.
What does this mean for you? Your website absolutely HAS to be responsive. If you are not a developer this may be extremely time consuming and difficult to achieve, especially depending on the age of your website and the technology which it uses. Of course, you can always hire a web development company to help streamline this process.
If you do choose to do this yourself there are many things to consider. Your website has to look good not only on your tablet and your phone but on every tablet and phone. Thankfully Google Chrome (as well as other browsers) has a very effective tool to assist you with this.
Additionally, you must optimize your images for the best size and remove all the EXIF data. This will ensure that not only Google will love you, but also your users who have not transitioned to a bulky data plan who count every website they visit, since un-optimized and over-sized images suck a lot of unnecessary data – which is one of the many reasons Google puts such emphasis on this.
3. Provide The Best User Experience
We mentioned earlier that there are actually a lot more than 3 ways to get on the first page of Google, and that we are simply covering the most crucial ones (in our opinion). This last one actually covers a few different elements that all relate to the same main component – a great user experience.
Over the years Google has put emphasis on many things within its algorithm. As human behavior and technology changes and people try to learn new ways to fool or hack the system, Google always adapts. Trying to hack your way into the first page of Google by using some form of trickery is not very recommended. In fact, if Google finds out that you are using black hat SEO techniques, your business may really suffer.
One of the sure ways to always succeed with Google and other search engines is to put the user experience first. Over the years Google has added more and more emphasis to the user experience, which can evaluate a number of factors such as how long users stay on your website, how many pages they visit, and a range of other factors (many of which are kept a secret).
You can achieve this through a number of ways:
If you are a local business then you should optimize your Google My Business profile. This will help you add additional helpful information to help your clients such as your operating hours, links to your websites, events, and even direct messaging to help you ensure that they contact you before they contact your competitors.
Establish a proper Information Architecture that will help both users and search engines navigate your website better. An HTML Sitemap can help your users better navigate your website and is a common element of a good website (by the way it is also crucial that you submit a sitemap to search engines so that they can better crawl your website).
Simplify your navigation without having too many sub-menus or items. We recommend that you try to keep your main menu to around seven items and without too many sub-items. A great example of this Apple's website, which at the time of this post is the most valuable company in the world while managing to keep its main menu limited to only seven items (of course there are exceptions to this rule such as Amazon.
Clearly defined calls-to-action in combination with proper web design can really help boost your user experience and conversions. We recommend to try and keep your pages limited to a single call-to-action with a lot of white space around that button or link so that the user will more likely see it and acts.
Readability is a crucial ranking factor as well as a great way to improve your user experience. There are many tools such as Grammarly or the Hemmingway Editor that can help you boost your readability.
Obtaining Google Reviews is another very important way for local companies to help clients have a better experience. A whopping 86% of consumers read online reviews before visiting a business, and 68% of consumers are more likely to buy from a business with positive reviews according to Boast.io.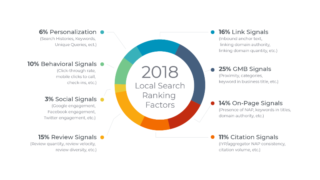 Conclusion
We know that this may seem like a lot of work, but it is 100% worth it. Spending time and money on your search engine presence is one of the best ways and arguably the most cost-efficient ways to get more clients in the world we live in. As time goes on, and the world becomes even more saturated with websites, search engine optimization will not only increase in its value, but also its difficulty, so it is best that you do not delay.
No matter what size company, what niche you are in, or what you are selling, search engine optimization and search engine marketing should be on top of your list. We hope that this list has provided you with some insight into how you can climb your way to the first page of Google. We wish you luck on your journey, and if you need a hand with your efforts we are always here to help!