QR codes and pumpkins
QR codes have to be good for something. How about dressing up a pumpkin?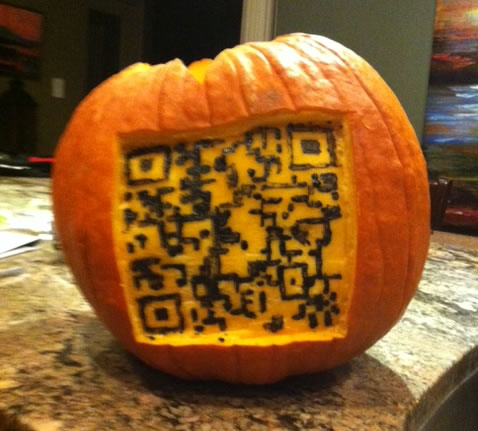 Last week I volunteered to participate in a pumpkin carving contest at my Rotary Club meeting tomorrow (Hallowe'en). 'Why not, this will be fun', I thought. My next thought was 'OK, what am I going to carve'. I was looking for a win-win here, so I thought I would carve something appropriate to my business. 'A computer?.. naw, a website?… nope, hey! what about a QR code!' I'd found my win.
Or maybe not. Carving a QR code into a pumpkin sounded easy, but proved to be a little trickier in reality. First I thought I'd get all butch and pulled out the dremel (everyone has a dremel, right?). Making little squares out of a pumpkin with a dremel was like… well it was like making pumpkin puree, because that's what I was doing – pureeing little bits of pumpkin without actually getting any pieces out.
So, I turned the pumpkin around, put the power tool aside and chiseled out a huge square. I was going to trace the QR code onto the square. I just had to pay attention (easy for someone with AADD, right?).
I got a black magic marker and started with the big square in the top left corner. The marker worked, for about a millimeter, then left no mark. I then tried a pen, a pencil, other markers… seems nothing wants to stick to wet pumpkin flesh (who knew!).
Not giving up, I went down to the paint room… had to find something dark. I finally found some bottom coat (used to paint the bottom of our boat, which we sold this past spring… so we're good). I opened it, then started dipping a tiny flat-head screwdriver and 'painting' the QR code.
After about 20 minutes, frustration started setting in. It's hard to erase paint from pumpkin flesh! After about 30 minutes, I was done (you know, the AADD thing again). Time to scan and see.
Looks great, doesn't it? So, give me an E for effort, because it doesn't scan.
I'm going to try again tomorrow morning at the Rotary meeting. A few cups of coffee will help, right?